Supporting financial institution sales to
individual investors with
a wide range of information
QUICK provides a variety of support for the promotion of consulting-based sales within the financial retail segment and increased customer satisfaction. In addition to conventional financial information, we offer a full range of customer relationship management (CRM) services. From expanding global investment and the adoption of tablet devices to NISA accounts and other global developments, QUICK has a service to meet every need.
Retail Sales Support
Equity Sales
Investment Trust Sales
Fixed Income Sales
Global Equity Sales
Institutional Sales
Asset Management Solutions
Public View
Information Terminals for Branch Office Visitors
Branch Office Design
QUICK LevelX r1(Qr1)
Powerful support for securities and financial services.
'QUICK LevelX r1 (Qr1)' is a standard market viewer for securities and financial professionals.
QUICK LevelX r1 (Qr1) features
User-friendly interface offers clear layout and simple operation
Highly precise search function enables users to search for related issues and news items together
In addition to data on Japanese equities, provides global multi-asset information including overseas equities, investment trusts, bonds, currencies, capital, and commodities
Wide range of comparison and simulation tools helps users to follow investment trusts at the time of sale or after purchase
QUICK information can be linked into customers' business systems
Compatible with multiple devices including tablets and smartphones, and enables information to be shared across devices
Offers a highly reliable service platform incorporating the latest technology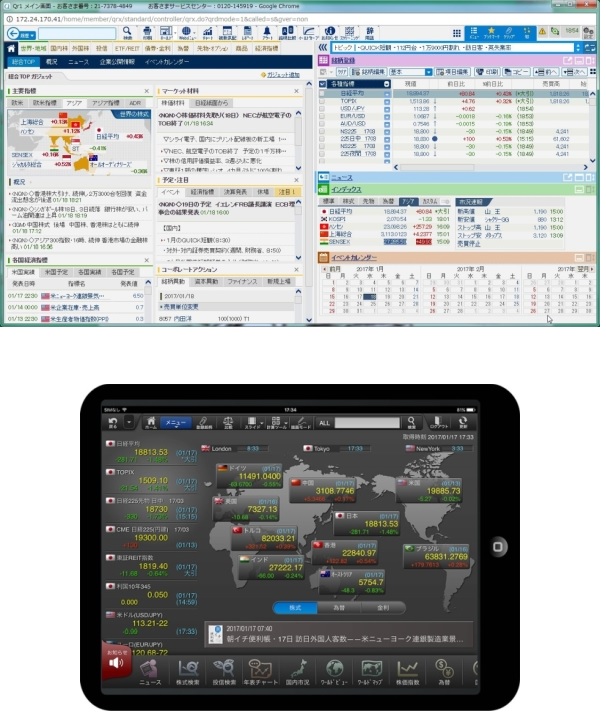 Astra Consultant
A support tool for a financial consultation
Astra Consultant is used in the proposal process of a financial consultation. It produces the best possible investment proposal by using life plan simulation to create an awareness of financial location and matching it to a life plan. It also creates portfolio proposals tailored to a client's particular needs, expectations and risk appetite using objective information and investment theory.
Astra Consultant features
Life Plan proposals

Producing the best possible investment proposal by using life plan simulation to create an awareness of financial alloca on and matching it to a life plan.

From investment portfolio proposal to rebalancing

Create portfolio proposals tailored to a client's particular needs, expectations and risk appetite using objective information and investment theory. Also analyze current assets and propose improvements.

Standardizing the consultation process

Standardizing the consultation process Systematic consultations help to ensure best practice in sales processes Achieve better client consultations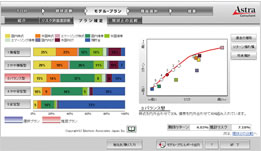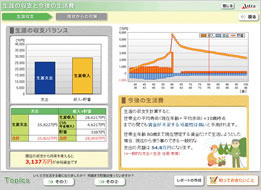 IS-Web FN
Market information with a simple interface
"IS-Web FN" is a web based information service with an easy to use interface that is aimed at a wide spectrum of users from product planning managers in head offices to sales staff at the counter of retail branches. It can be connected by internet or dedicated line and configured to a customer's computer network and environment. It supports information including news, foreign exchange, interest rates, stock prices as well as market indexes, investment trusts and so on that is essential in handling customers at the retail branches of financial institutions.
IS-Web FN features
Web browser based simple operability.
Provide information that is essential in handling customers at the retail branches of financial institutions.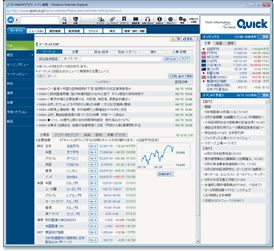 Accurate information and tools
supporting financial and capital market professionals
From investment management and monitoring of various financial assets to corporate research, fund-raising, foreign exchange and fixed income, we support the sophisticated operations of financial and capital market professionals with data, tools and advisory services. External alliances with FactSet and other organizations provide us with coverage of 500,000+ issues in more than 70 countries and corporate financial data on approximately 76,000 companies in 120 countries. In addition, QUICK supports customer business with tools linked to 1.8 million networks, macroeconomic data, earnings projections, shareholder information, M&A, human resources information and a variety of other financial databases.
Equity Finance
Bond Underwriting
Equity Dealing
Equity and Fixed Income Trading
Cost-Performance Analysis
Trading Support
Institutional Investor Sales and Research
Back Office Data Usage
Equity Investment and Research
Fixed Income Investment
Cost-Performance Analysis
Trading Support
Back Office Data Usage
Fund Management
Information Sharing
Market Monitoring
Bond Issuance
QUICK Workstation
An information service for market
analysis and portfolio management
A terminal type service with value added information and a variety of analysis functions useful for asset management and research departments, also for preparing proposals and research in investment banking and corporate sales departments.
QUICK Workstation features
Portfolio monitoring in real time, segmented back testing
Supports stock selection and advanced investment analysis with accurate ASTRA database, one of Japan's largest financial database, and wide ranging market information.
Supports investment bank business with various credit information such as rating, financial indicators, finance information.
Real time data monitoring, analysis to assist in trading.
An all-in-one QUICK multi asset data service.
Providing various simulation functions for selecting appropriate investments, credit risk management, etc.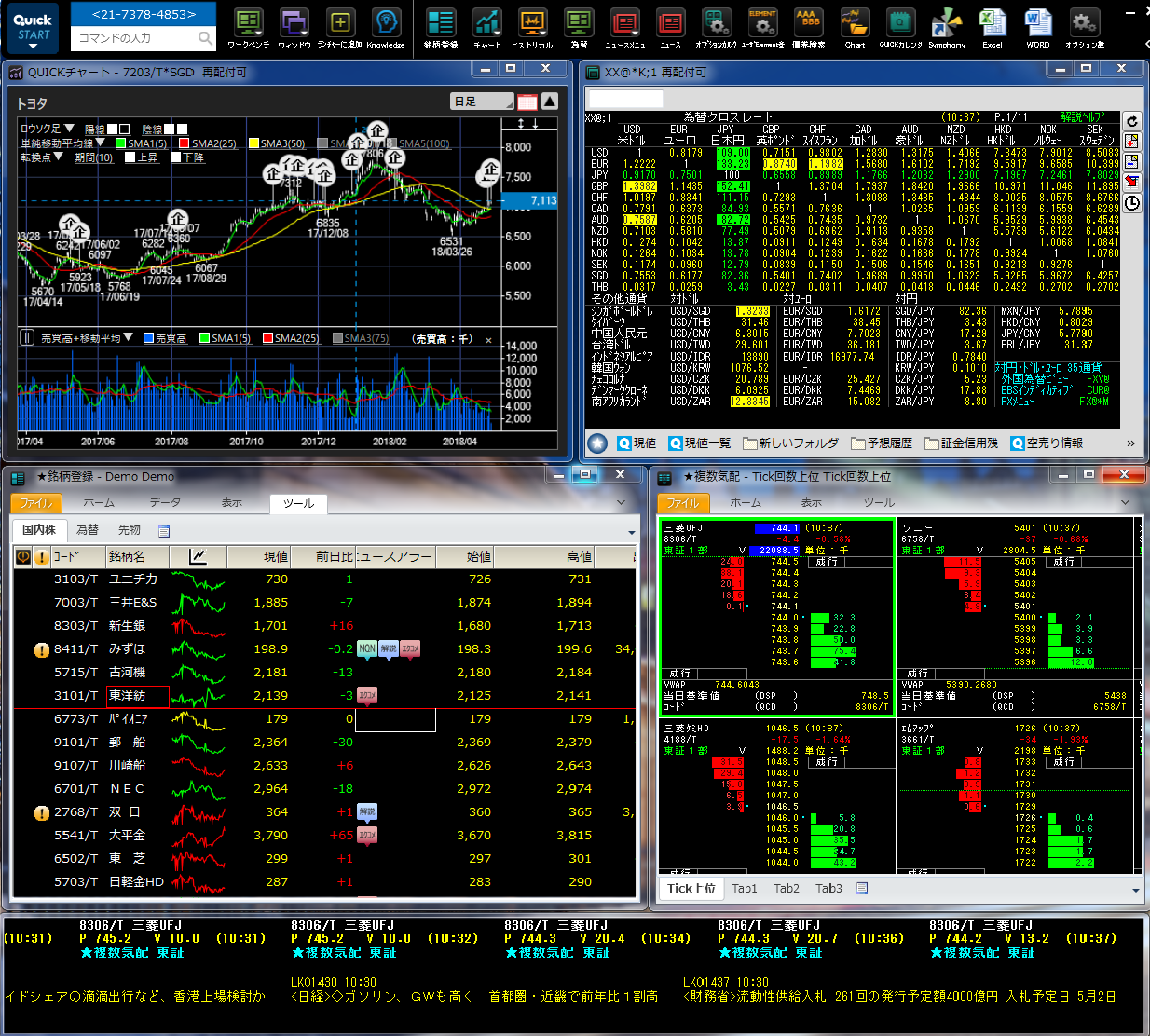 QUICK FactSet Workstation
Global company analysis and
highly reliable data coverage.
Nikkei Group's domestic content, FactSet's global content and workflow solutions have combined into one workstation.
In this scene
QUICK FactSet Workstation provides solutions for Portfolio Management, Research, Investment Bank, Investor Relations, Corporate Strategy
QUICK FactSet Workstation's data coverage
More than 120 countries, 76,000 companies of fundamentals, estimates, ownership, M&A details, management board members and 1,800,000 series of macro economics.

Keep uptodate with the latest Japanese market trends with the Nikkei Group's data. Keep ahead of the global market trends with FactSet's global data and stay uptodate with Japanese market trends with the real-time Nikkei News, NQN(Nikkei QUICK News) and QUICK News.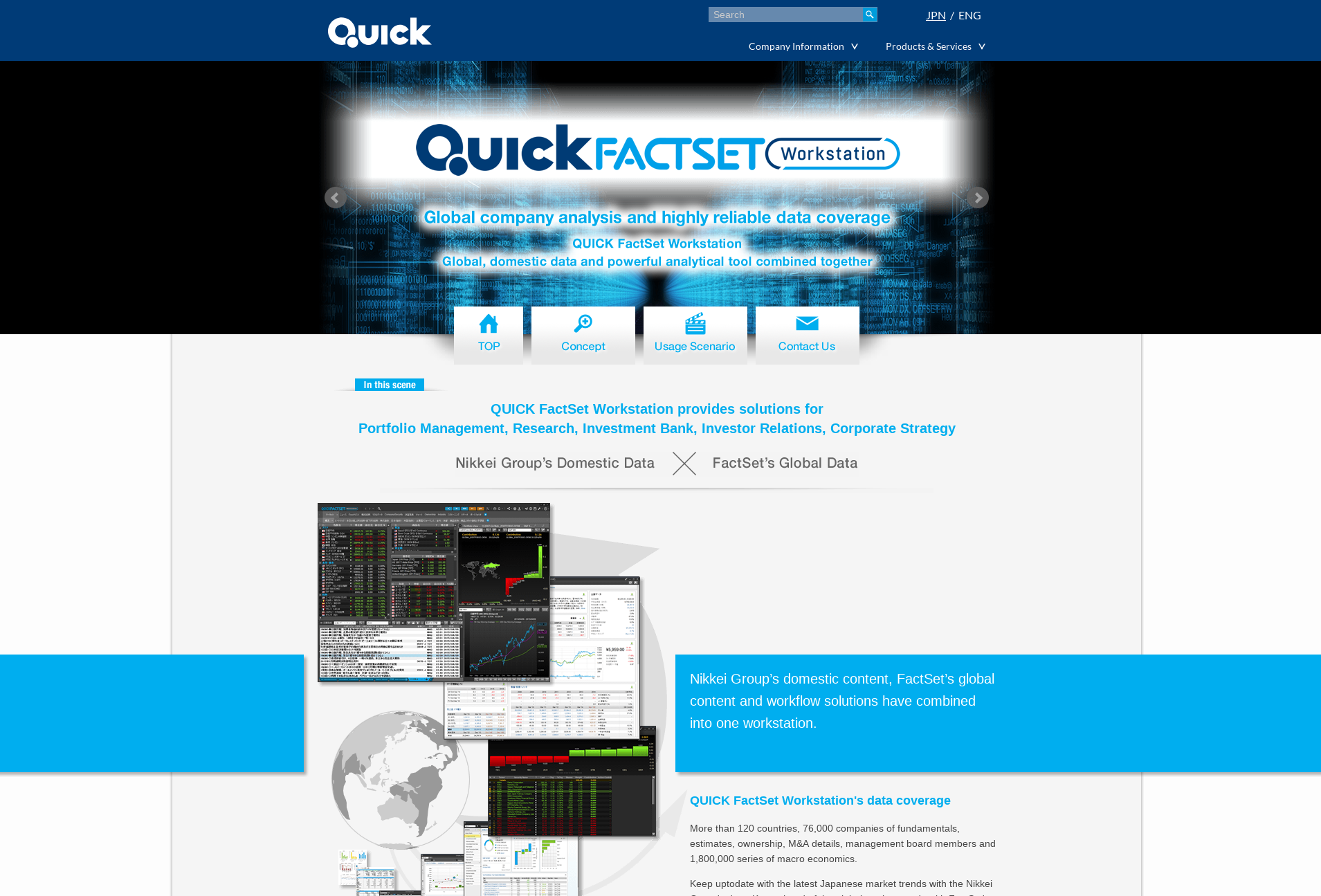 QUICK Feed
"QUICK Feed" is a consolidated record based data feed of stock price information from securities exchanges as well as other QUICK data such as company profiles, indices and related information. It is a first rate high speed feed that incorporates in a timely way all system changes and product additions of the securities exchanges.
Major features
Various services depending on needs
Domestic and foreign equities price data is available in either in real-time or delayed depending on needs. "QUICK Feed Super" is a full-flow data feed service covering prices and market depth. "QUICK Feed light" provides a restricted data flow service to reduce data traffic.
Vast data coverage
Market information on domestic securities exchanges
Supports market information on domestic securities exchanges such as Tokyo Stock Exchange (FLEX, Tdex+), Osaka Stock Exchange (market information, J-GATE) and PTS. Coverage of data includes, price, company profile, market depth, pre-opening quote, reference price, and QUICK's original value-added data.
Overseas securtiies exchanges
Coverage of data includes securities exchanges in North America and Asia, etc.
FX, fixed income, and derivatives data
Coverage of data includes real-time information on FX, fixed income, and derivatives from domestic and overseas brokers.
A robust reliable system
Data distribution servers are located in QUICK premises to minimize setup at users end. System monitoring for such servers are carried out by QUICK.
System redundancy is provided with dual data distribution channels.
Easy to use system
API(QUICK Feed-API) facilitates development of receiving system.
QUICK's unified interface to allow user to connect easily its system to different securities exchanges.
QUICK supports regulation changes at domestic securities exchanges.
QUICK Data Files
Reliable price information and issue profiles
QUICK Data Files Service provides accurate data meeting the needs of ALM, risk management and compliance in daily asset management operations. It provides end of day price for domestic listed stocks, bonds, futures, and options in text file format. By receiving QUICK's DDS data into a PC or an integrated back office system, users are able to flexibly use data for portfolio valuations, etc.
Major features
QUICK's high reliable data.
Provides profiles of stocks, bonds and market values.
Complies with Best Execution rule.
Use priority markets data in mid/back office systems.
Optional historical data available for regulatory compliance.
Scheduling function to create files automatically.
Easy to use in CSV, XML format for front, middle and back-offices.
A trustworthy corporate partner
also highly regarded for academic applications
QUICK supports appropriate corporate finance with highly reliable information, efficient analysis and the collection and organization of an enormous amount of market data. This contributes to lowering the burden of borrowing costs and mitigating currency exchange risks. We also quickly create analytical reports on competitor companies. As a partner assisting corporate decision making, QUICK supports the formulation and execution of business strategies, realizing enhanced corporate value. Our robust and easy-to-use database is highly regarded by universities and research institutes for its academic applications. We support everyone at the forefront of a wide range of businesses.
Competitor Company Analysis
Report Creation
Currency Exchange and Interest Rate Risk Analysis
Corporate Financial Data Analysis
Market Analysis
Macroeconomic Analysis
---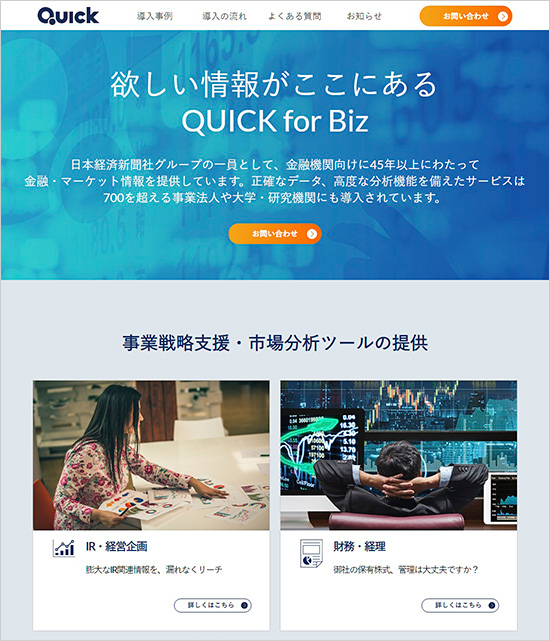 QUICKProfessional for Corporation
Services and examples of practical application are introduced
here