Supporting individual asset management through technologies and content cultivated for professionals.
Through proprietary media and approximately 12 million securities accounts, QUICK delivers useful information that is easy to use and understand for individual investors and private asset managers.
QUICK provides investment information to individual investors through the provision of services offered by various securities companies and financial institutions. This support is always within reach via a smartphone, a tablet or another digital device. Our solid and stable infrastructure facilitating massive access to online trading is highly regarded as the backbone of the online securities industry.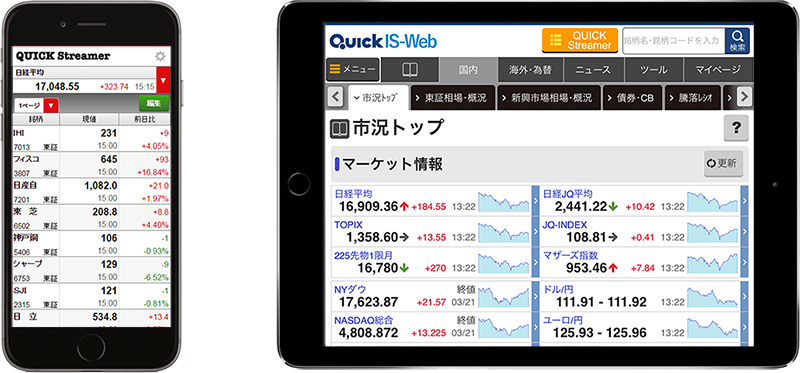 QUICKTRADER Premium
A trading tool equipped
with a wealth of information

and an order execution function
A service mainly for individual day trader that links real time market information and the trading function. The information and trading systems operate together seamlessly.

QUICK IS-Web
Indispensable information

for equlty investment
in real time
QUICK IS-Web is an information service providing equity investment related information for securities companies' online trading.

QUICK deploys proprietary services, including QUICK Money World, which provides robust information useful for equity investments and issue searches, and IRroid, which uses a cute animated character to disseminate corporate information in a fun way. In addition to supporting asset management by individual investors, these services also play a part in further expanding assets under management.

Website for individual
investors loaded with information

and functions useful
for investing and stock searches.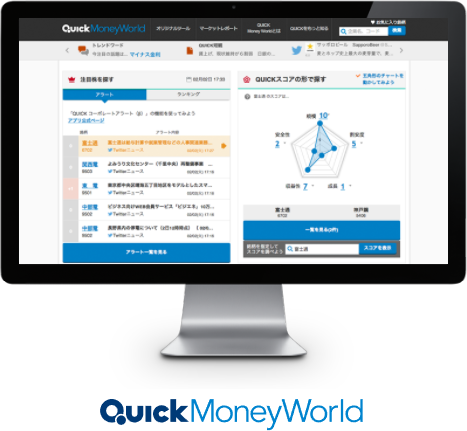 Information dissemination platform

combining Japanese subculture
with investor relations.