Trials for Companies with a Tradable Share Market Capitalization of Around JPY10bn as a Result of TOPIX Review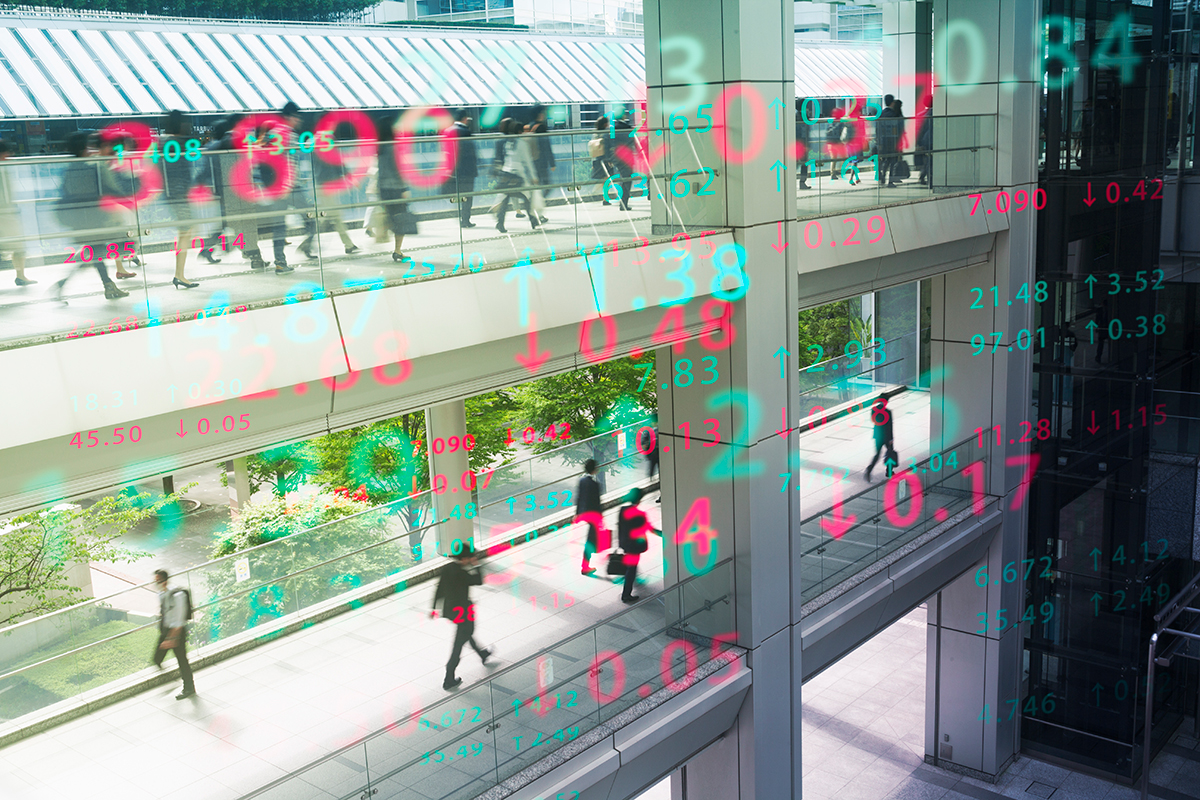 [Nikkei QUICK News] In parallel with the market restructuring in April, the Tokyo Stock Exchange (TSE) will proceed with a review of the TOPIX. Stocks that move from the current TSE 1st Section to the Standard Market will also continue to be included in TOPIX for the time being, so many believe that there will be no significant change in the index. On the other hand, stocks with a tradable share market capitalization of less than JPY10bn will be subject to a gradual reduction in inclusion weighting. For some companies, this is a tough challenge and could be a downside factor for their stock prices.
In the selection of companies announced in January regarding their new classification from April 4, 1,841 companies, or 84% of the TSE 1st Section, chose the top-tier "Prime Market." On the other hand, the remaining 344 companies in the TSE 1st Section chose to move to the "Standard Market" based on their business environment and management strategies. In the TOPIX review, if a company is currently listed on the TSE 1st Section, it will continue to be included in the index even if it chooses the Standard Market.
Companies that have not Achieved Market Capitalization are Subject to Ratio Reduction
On the other hand, stocks with a tradable share market capitalization of less than JPY10bn will become "phased weighting reduction constituent" under the current TOPIX review. The TOPIX component ratio of such constituents will decrease in 10 steps every quarter from the end of October 2022 to the end of January 2025. If the tradable share market capitalization exceeds JPY10bn at least once in the two decisions, the index adoption will continue without a decrease in the composition ratio. The 1st decision was completed by December 2021.
The 2nd decision will be made in October 2022. For example, for a company whose fiscal year ends in March, this decision is made using the number of tradable shares as of the end of March 2022 and the average share price from January to March 2022. For companies that could go either way, this is a critical time.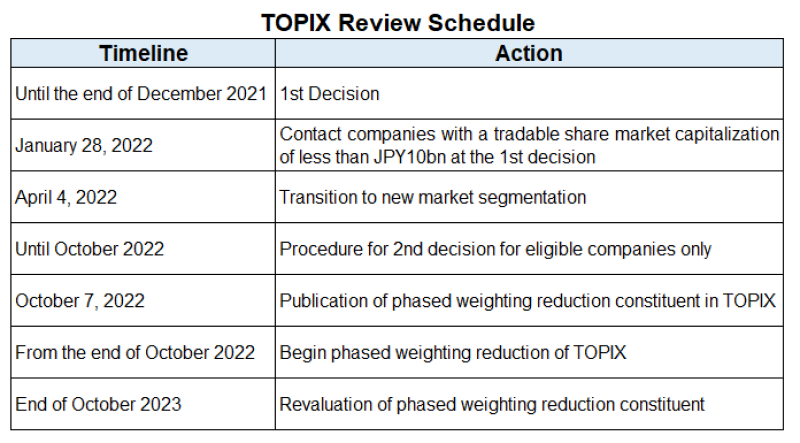 According to the TSE's Information Services Department, there have been "more than a dozen inquiries" from companies about the TOPIX review since January. There is a lot of confirmation on the TOPIX review rules, and the TSE has been making explanations on the matters such as the procedures for this review.
Actions for Continued Index Inclusion such as Stock Split and Share Buybacks
There are also actions on the part of companies that appear to be aimed at maintaining and improving their tradable share market capitalization. Cross Cat (2307), which engages in contract software development and has a low market capitalization of about JPY20bn, revised its earnings forecast upward and increased its year-end dividend from January to March, and also announced a stock split and share buyback.
Some companies plan to expand or establish new shareholder benefits. BOOKOFF GROUP HOLDINGS (9278) expanded its special benefit program for shareholders holding 100 or more shares on March 15. Kibun Foods (2933) also introduced a new shareholder benefit program in February.
Makoto Sengoku, senior equity market analyst at Tokai Tokyo Research Institute, expressed his view that "in order to increase the tradable share market capitalization, medium- to small-sized companies will continue to establish or expand shareholder special benefit programs."
Ex-TOPIX Constituents also Face Downward Pressure on Stock Prices
If stocks currently included in the TOPIX are to be excluded from the index, they will likely be subject to selling pressure. Shingo Ide, chief equity strategist at NLI Research Institute, pointed out that "some of the stocks that were seen to be excluded from TOPIX were already being sold by active investors since last year. If the stocks were to be removed from the TOPIX, there would be further selling from passive funds, which would continue to put downward pressure on stock prices."
Even if a company becomes a "phased weighting reduction constituent," there is a way for it to revive. In October 2011, the tradable share market capitalization will be re-evaluated, and if the criteria are met, the weighting will be returned. Although there are expectations of various actions on the part of companies, Atsushi Kamio, chief researcher at Daiwa Institute of Research, points out that "in practice, it is quite tough to raise the tradable share market capitalization during a period of declining weightings."
For companies, whether they can survive in TOPIX is a major challenge that determines the trend of their stock prices. Although the TSE's market restructuring as a whole has been often pointed out as "without substance," it is necessary to continue to closely follow the actions of companies in the future.
NQN News on QUICK Data Factory
https://corporate.quick.co.jp/data-factory/en/product/data017/