Google enters into cashless payment in Japan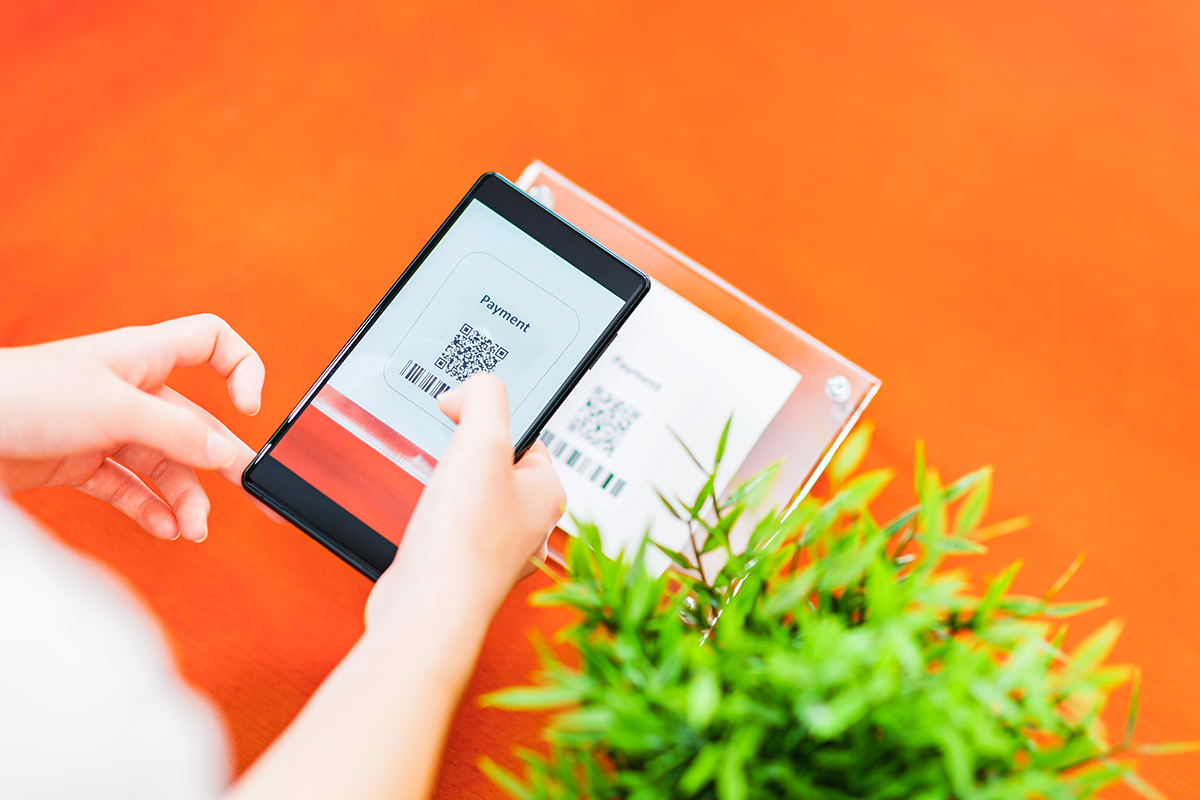 [Takashi Miura, Japan Intellectual Property Research Institute] On July 9, Nikkei reported that Google has planned to acquire 'pring,' a Japanese cashless payment startup, for more than JPY20bn. Google is planning to start money transfer and payment services in Japan by 2022.
pring provides cashless transfer and payment services. Nikkei reports that pring has only a few hundred thousand registered users, but the number might grow explosively if the service is offered directly as a part of 'Android' – Google's OS for smartphones.
Surge in patent applications for cashless transfer
Patent applications for cashless transfer technology have increased rapidly in the past few years. Until around 2014 the annual number of applications remained flat at less than 20, but since 2015 the number has increased at an accelerated pace. Although digital money had the disadvantage of having fewer point-of-sale terminals than credit cards, the spread of QR codes has greatly reduced the burden on merchants and stimulated the increase in the number of stores accepting digital money. It is believed that the increasing number of users of digital money has led to a sharp increase in patent applications.
■ Changes in the number of patent applications related to cashless transfer technology. (Source: Japan Intellectual Property Research Institute, based on PatentSQUARE)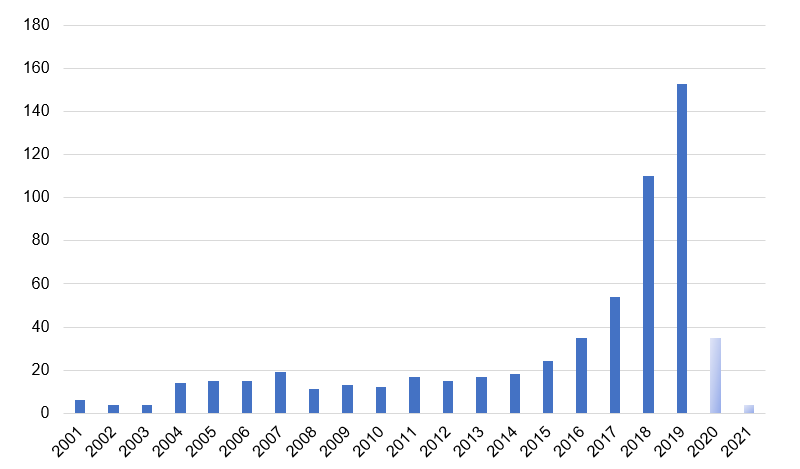 The number of digital money issued has entered a maturity phase. The number of cashless payments also have increased only slightly in recent years. The payment amounts, however, have been steadily increasing. The balance charged has also increased to JPY365.6bn at the end of 2020, which is equivalent to the deposit balance of medium-sized regional banks.
■ Amount and number of cashless payments (Source: Japan Intellectual Property Research Institute, based on public data from Bank of Japan)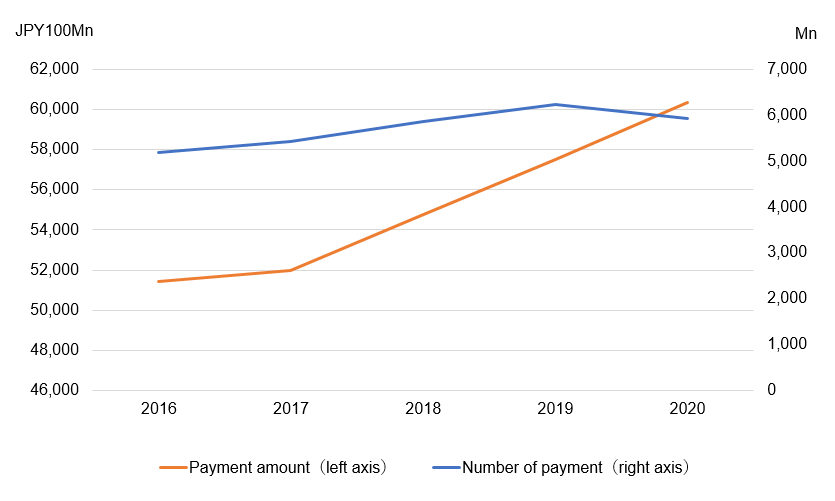 Currently, the share of mobile phones in the cashless transfer is around 10%, which has not changed significantly over the past few years. Compared to card-based digital money, mobile phones would be far more convenient, but mobile phones require software to be installed on them, which is a hassle that has put people off.
In this respect, digital money operated directly by an OS provider like Google has an overwhelming advantage, as it can come as pre-installed on the terminals.
Rakuten and LINE are competing with patents
We used the KK Score, which measures the patent value of companies, to rank the companies with the highest patent valuation in the area of technology involving cashless transfer. Rakuten came in first place, while LINE Pay was in second place. The number of patents held by Rakuten and LINE exceeds 20, and they are competing closely with Mercari and other companies that were not ranked.
■ Top 10 companies with the highest KK Score patent ratings for the technology involving the cashless transfer (Source: Japan Intellectual Property Research Institute, using PatentSQUARE)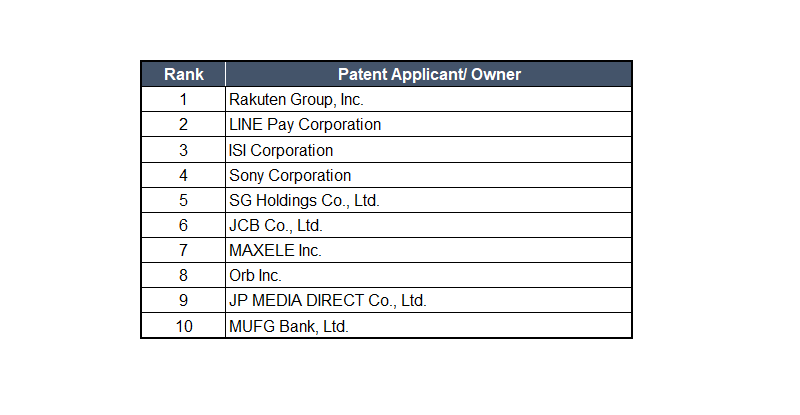 On the other hand, pring has only one registered patent.
■ Patent held by pring (Source: Japan Intellectual Property Research Institute, using PatentSQUARE)

Google already provides cashless transfer and payment services in the US and India, and given Google's development capabilities, it is hard to imagine that it can not develop its own cashless transfer and payment technology. It is also difficult to imagine that there is an urgent need to quickly obtain registration as a funds transfer agent under the Act on Settlement of Funds controlled directly by the Financial Services Agency of Japan, which is necessary for electronic money operations.
A conceivable strategy in acquiring pring may have been that Google considered that it could use pring's patent for the services it is planning to develop in Japan. The patent includes a technology that allows for easy cashless transfer via smartphones.
If Google were to offer a similar service without acquiring pring, it would have had to develop a technology that did not infringe on pring's patent. It may not have been difficult for Google to do so, but the actual operation of the service would not have been that smooth. In addition, in an industry that is prone to competition to lower fees, such an acquisition can also be expected to function as a deterrent to the services of the competitors.
It could be assumed that the acquisition price of over JPY20bn paid by Google was likely for this patent.
For alternative data on Japanese stocks
https://corporate.quick.co.jp/data-factory/en/product/