[Hot Topic] Capital Flows into "Pulp & Paper" Related Stocks – Daio Paper (3880)
The market is focusing on "Pulp & Paper" related stocks. The average price for the 16 stocks selected by QUICK rose by 0.5%, which is higher than -1.2% of the TOPIX over the past 10 business days up to July 1.
The "Pulp & Paper" sector received positive benefits such as economic recovery in China and the US, and substitute demand by the suspension of imports of used paper in China. The sector followed the uptrend in other sectors, which also seemed to contribute.
In addition, it seems to be expected for a recovery in sales of industrial cardboard for EC (electronic commerce) and automobile production. Many of the constituent stocks are focused on as they are generally undervalued.
Daio Paper (3880), which ranked fourth place, rose by 2.21% during the period. On May 27, it announced a three-year business plan until the fiscal year ended March 2024. The company plans to invest business resources in diapers and household paper, which are growing fields, and takes advantage of M&A to expand its business.
Daiwa Securities said in a report on June 2 that it is considered to be a transition period from "BtoB" to "BtoC" with a certain appreciation to the medium-term business plan, and expects future trends.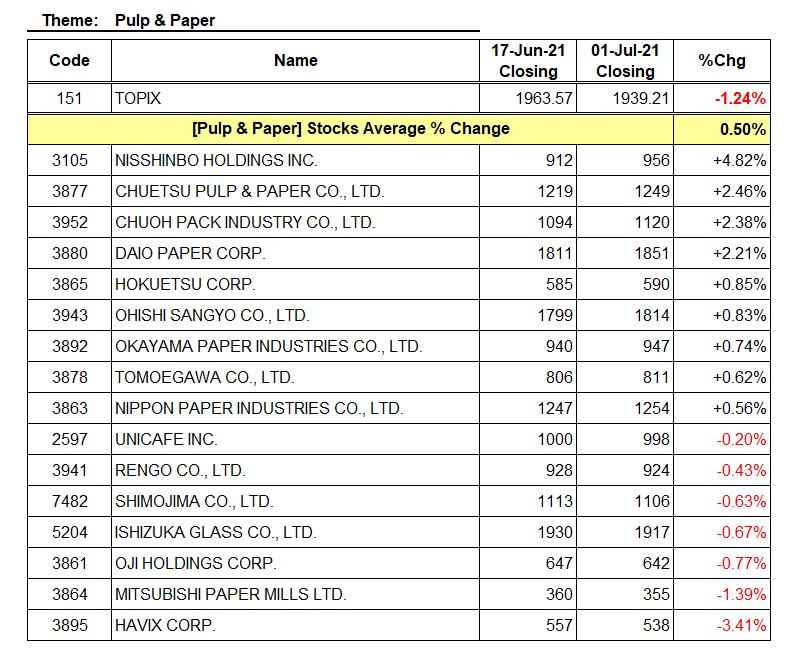 QUICK Themed Stocks on QUICK Data Factory
https://corporate.quick.co.jp/data-factory/en/product/data018/