QUICK Themed Stocks: Focusing on "Ammonia" as Japan's Decarbonization Measure
Ammonia is getting attention as a key to Japan's decarbonization, especially in the field of fuel.
■ Next-generation fuel for generating power
Japan has positioned ammonia as the next-generation fuel for generating power, along with hydrogen, in its "Green Growth Strategy" formulated in October 2020. This is because ammonia does not produce carbon dioxide (CO2) when burned, and it is also widely used as a fertilizer. Presently, the development of technology for co-firing is underway, in which ammonia is mixed with coal or natural gas and burned to generate electricity. In May, NEDO (New Energy and Industrial Technology Development Organization) announced having adopted two research themes for the development of technology for co-firing ammonia with coal.
The latest "Green Growth Strategy Through Achieving Carbon Neutrality in 2050" announced by METI (The Ministry of Economy, Trade and Industry) on June 18 also clearly mentions the "Hydrogen and ammonia power generation industry" as one of the 14 sectors expected to grow. Additionally, as part of the regulatory reform efforts, METI appraised hydrogen and ammonia as carbon-free power sources. They also proposed the development of an electricity market where incentives could be received by utilizing such power sources.
■ 90% of ammonia is produced and consumed locally
The chemical formula for ammonia is NH3, produced by catalytic reaction of nitrogen (N) and hydrogen (H) under high temperature and pressure. It was in Germany at the end of the 19th century that mankind developed the technology to artificially produce ammonia on a large scale. The "Haber-Bosch process," created by Carl Bosch, a researcher at BASF (Germany), the world's largest chemical manufacturer, and Fritz Haber, a researcher at the University of Karlsruhe, became the basis of today's ammonia production method. This has enabled the mass production of artificial fertilizers and the food problem, which was a concern at the time due to population growth, was being resolved.
As of 2019, the world's current production of ammonia is about 200 million tons per year, with about 80% used as fertilizer and about 20% used for industrial purposes. The top four producing countries, China, Russia, the United States, and India, account for more than half of global production. Approximately 90% of ammonia is produced and consumed locally. Japan consumed about 1.08 million tons in 2019, producing 80% domestically and importing 20% from Indonesia and Malaysia.
■ Advantages
Ammonia is expected to be utilized not only as a fuel for power generation but also as a carrier for hydrogen. Compared to hydrogen, ammonia poses less risk of explosion, can be used with existing facilities and know-how, and does not need to be separated from hydrogen when used as fuel. Another advantage is that it can be liquefied at room temperature, whereas hydrogen can only be liquefied at extremely low temperatures.
It is also being used as a pollution control measure for nitrogen oxides (NoX), an air pollutant generated by thermal power plants, as raw fuel for fuel cells, and as a basic raw material for chemicals.
■ Challenges
On the other hand, issues that need to be resolved in the future have also become apparent. Ammonia is inferior to natural gas and coal in terms of energy efficiency, because its flame temperature during combustion is low.
Currently, since most of the world's ammonia is produced and consumed locally, a supply chain needs to be established to ensure stable procurement of large quantities. Through the "METI's ammonia energy council," established in October 2020, equipment manufacturers and electric power companies are continuing to exchange opinions to build a supply chain.
■ Ammonia related stocks
The council includes Mitsubishi Corporation (8058), Mitsubishi Heavy Industries Ltd. (7011), JGC Holdings Corporation (1963), and Electric Power Development Co., Ltd. (9513).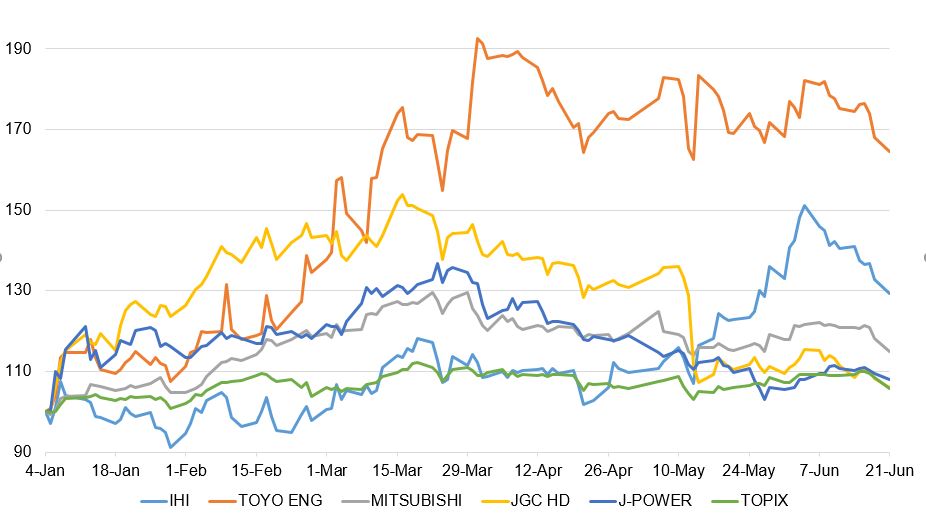 *Comparison chart of the stock prices of IHI, Toyo Engineering Corporation, Mitsubishi Corporation, JGC Holdings Corporation and TOPIX. (The value at the beginning of the year is 100.)
IHI (7013) has succeeded in the world's first 70% co-firing of liquid ammonia by utilizing its technology for aircraft engines. The development of ammonia-derived fuel cell systems is also underway.
Toyo Engineering Corporation (6330), specialized in fertilizers, received the order for an ammonia plant for the former Soviet Union in 1969, one of the largest in the world at the time, and has been involved in numerous projects since then. In December 2020, ITOCHU Corporation (8001), Irkutsk Oil Company (IOC), a Russian oil company, and Japan Oil, Gas and Metals National Corporation (JOGMEC) launched a joint feasibility study on the ammonia value chain between East Siberia (Russia) and Japan.
Ammonia power generation is still a long way from practical use, with 20% mixed fuel combustion expected to start only after 2030 at the earliest. However, expectations are high, and we will continue to follow the latest information on its production, storage, and utilization.
QUICK Themed Stocks on QUICK Data Factory
https://corporate.quick.co.jp/data-factory/en/product/data018/