Hitachi's stock price at a 20-year high. EPS increase as a result of 'selection and concentration'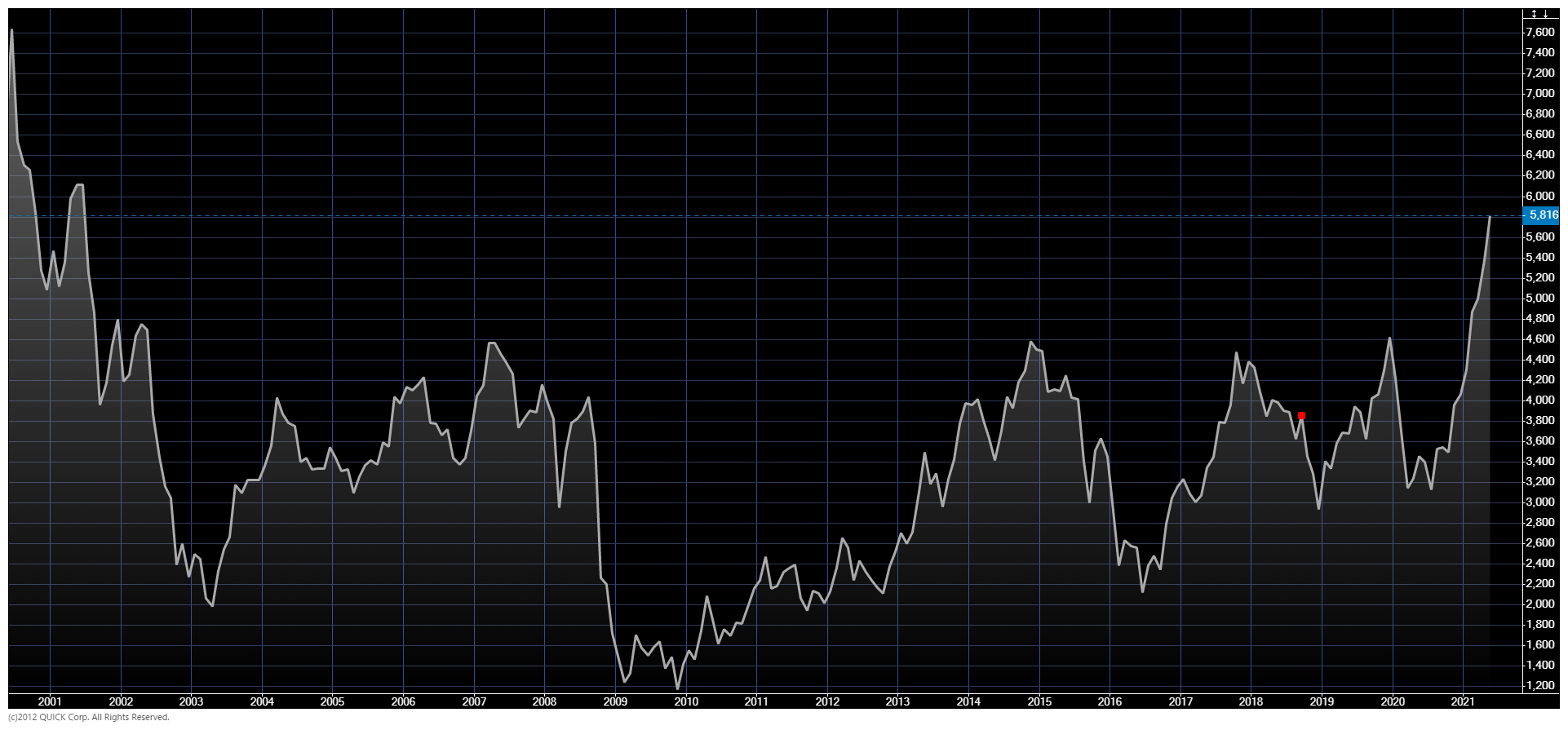 [Nikkei QUICK News] The stock price of Hitachi, Ltd. (6501) is rising. The company's stock price rose for the fourth day in a row on the Tokyo Stock Exchange on 25 May, temporarily rising to 5,723, a 1.6% rise over the previous day. It was the highest price after nearly 20 years since August 2001. The profitability of the company's mainstay IT services improved, prompting market participants to value the company's growth potential. The company's efforts to separate its non-core and low-margin businesses have helped boost earnings per share (EPS), emphasized by investors.
■ Lumada performs well
On May 25, a domestic securities company commented, "As the price movements of high-tech stocks at a high level settled down, funds were flowing into economy-sensitive stocks expected to expand their business performance." In fact, Hitachi's earnings are expanding. The company's consolidated financial results (IFRS) for the fiscal year ended March 2021, announced in late April, showed a record high net income of JPY501.6bn, 5.7 times the previous year's level. Even as the sales of the IT division declined, adjusted operating income rose by 8% to JPY269.4bn, accounting for more than 50% of the total.
The demand for digital transformation (DX) is a tailwind, and the company expects to continue its strong performance, particularly in its own IoT infrastructure business, 'Lumada'. For the fiscal year ended March 2022, the company plans to increase consolidated net income by 10% to JPY550bn, a new record high.
The structural reforms that have been promoted also have a significant effect. Hitachi has been implementing reforms focusing on IT services since the Lehman crisis, the company falling into a significant final loss in the fiscal year ended March 2009. In addition to reinforcing the IT division, the company implemented a carve-out (sale of core businesses). Although there were up to 22 listed subsidiaries in 2009, with the company indicating its intention to sell Hitachi Metals, Ltd. (5486) in April 2021, only Hitachi Construction Machinery Co., Ltd. (6305) remains. In recent years, there has been a noticeable increase in the number of companies bloating through M&As. However, Hitachi is often referred to as the symbol of 'selection and concentration'.

■ A structure making it easy to appreciate the core business
In recent years, Hitachi has been pointed out to flow earned profits to outside shareholders due to its many listed subsidiaries. There are many impairment losses associated with business reviews, and the ratio of net income to operating income on a consolidated basis is small. In the fiscal year ended March 2020, net income (JPY87.5bn) was only 10% of adjusted operating income (JPY661.8bn).
However, net income (JPY501.6bn) exceeded operating income (JPY495.1bn) in the fiscal year ended March 2021, when business restructuring seemed to have turned full circle. EPS increased to JPY519.29 (JPY90.71 in the previous fiscal year), the highest since the fiscal year ended March 2011 when the company returned to profitability.
Hiroyasu Nishikawa, a senior analyst at Iwai Cosmo Securities, said, "There are many favorable factors driving earnings, such as the IT business and the electric power transmission and distribution business." Now that the impact of profit outflows and losses related to restructuring listed subsidiaries has become smaller, the company's growth potential of its core business has become more easily valued. The tailwind is likely to continue for the company's mainstay IT division, and the stock price is expected to approach its all-time high since it was listed (1 August 1988, about JPY9,714, since the start of QUICK Corp. calculations).
NQN News on QUICK Data Factory
https://corporate.quick.co.jp/data-factory/en/product/data017/