Will TSE's market restructuring contribute to improvement of the corporate value? – QUICK Monthly Survey (Equity) in May 2021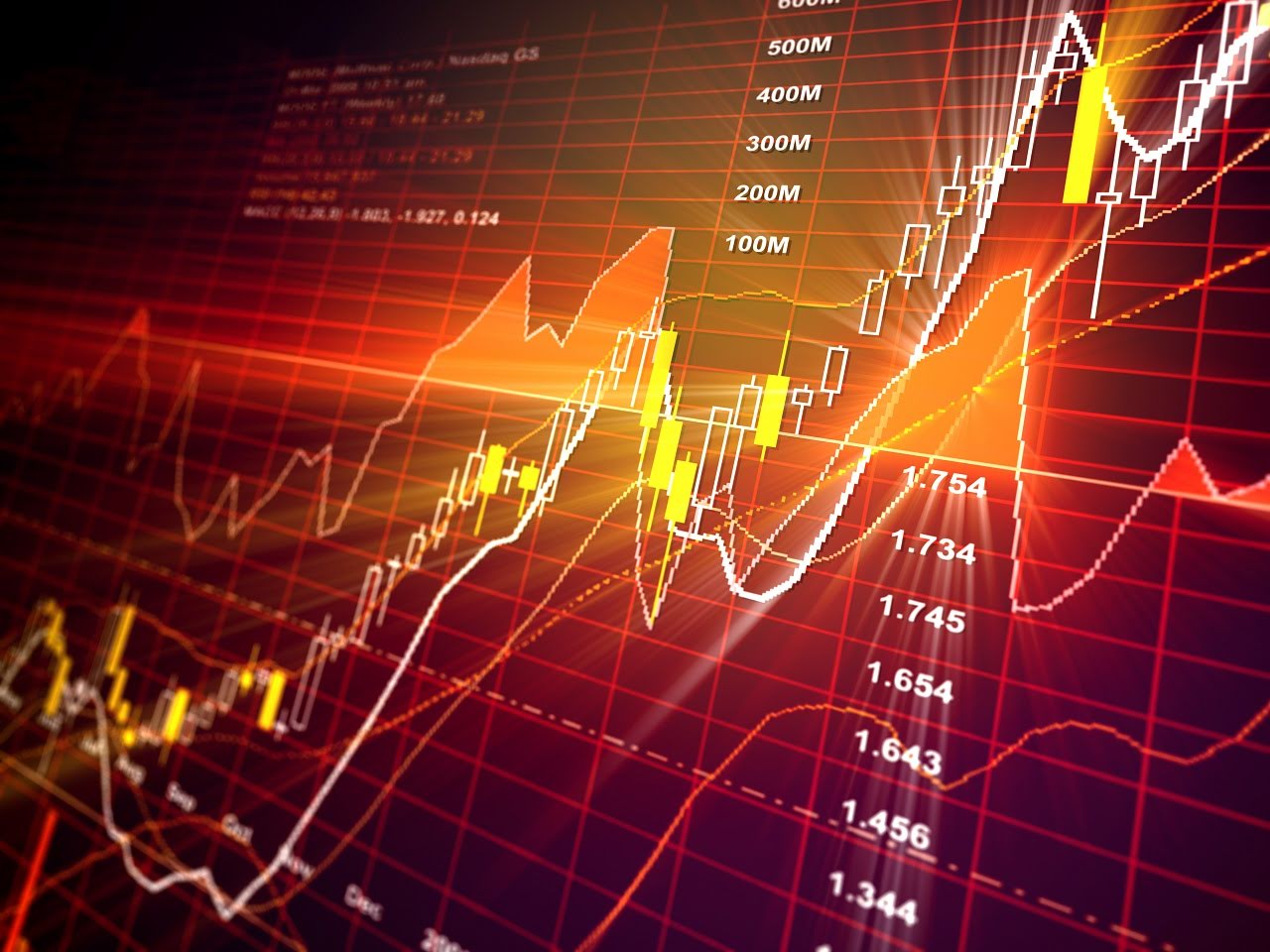 From April 2022, the Tokyo Stock Exchange is planning to reorganize the current four market segments, including the First Section of the Tokyo Stock Exchange, into three new market segments – 'Prime', 'Standard', and 'Growth'. Recently, the proposed revisions to the Corporate Governance Code (CG Code) were also revealed. Companies listed on the Prime Market shall be required to comply with the sophisticated CG Code or provide an explanation.
In the QUICK Monthly Survey (Equity) for May, market participants were asked, "Will the market restructuring and the revision of the CG Code contribute to a sustainable improvement in the corporate value of companies listed on the Prime Market?" Only 22% of respondents chose, "The corporate value will improve sustainably", and 63% chose that "The corporate value will remain virtually unchanged and will meet the requirement only as a formality."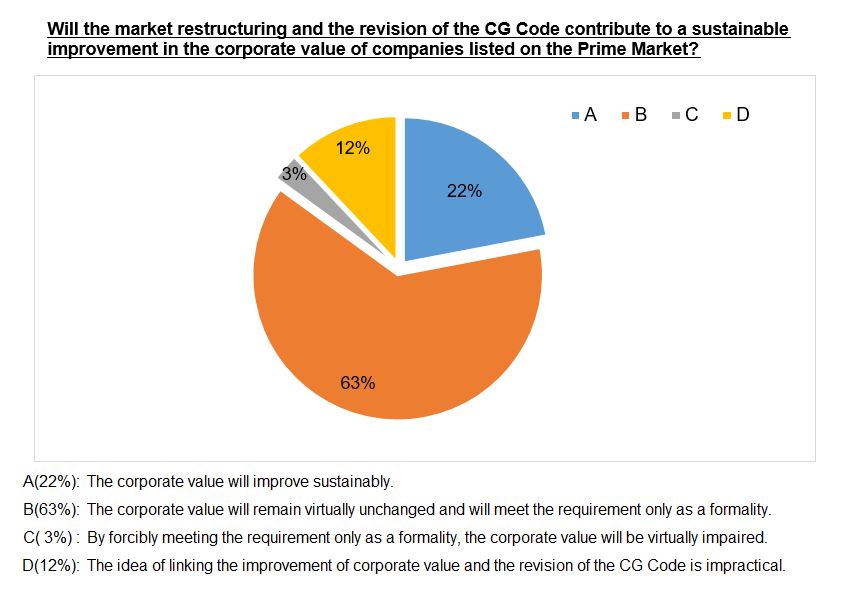 "The level of requirement of Prime listed companies to remain listed has been raised. The requirement, however, is not strict and will meet the requirement only as a formality. Only a few companies are likely to put much effort into reforms." As evident from that outlook of Asset Management, market participants are skeptical about the effectiveness of the reforms.
As a result of the market restructuring, the TOPIX constituents will also be reviewed. From October 2022, stocks with a market capitalization of under JPY10bn will be phased out, regardless of their market classification. There was a close vote for and against the restructuring of TOPIX. 47% of respondents said, "Restructuring will value the liquidity of stocks and be desirable." A securities company said, "Separating TOPIX from the market segment is a good idea." On the other hand, 45% said, "The market capitalization standard is too loose and will have limited practical effect."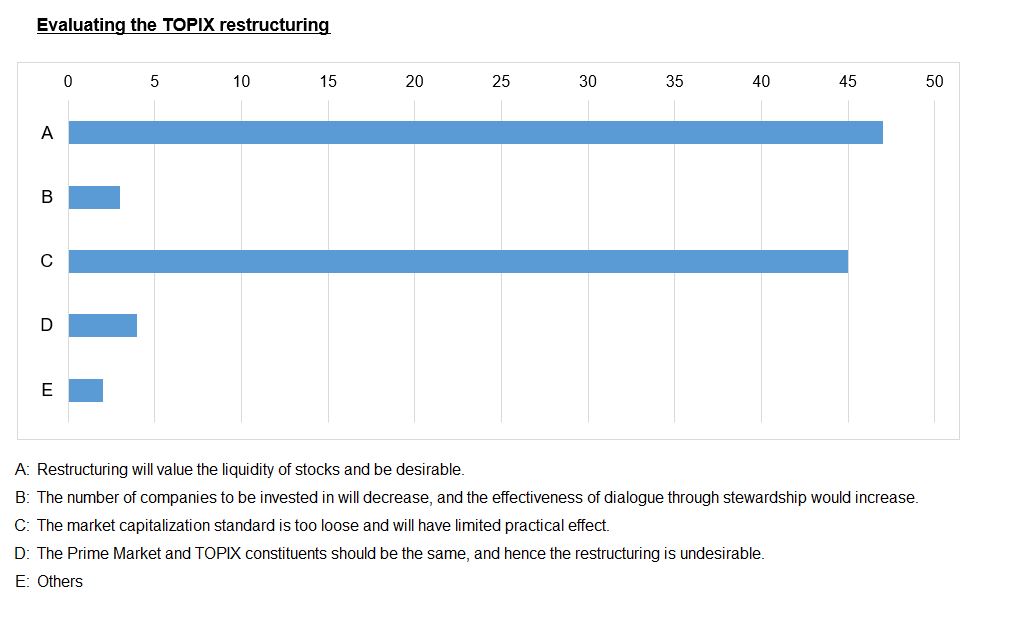 The forecast for the Nikkei 225 surveyed every month was overall corrected downward compared to the April forecast. The forecast at the end of May is 28,430, a downward shift for the first time in 10 months. Recently, the Nikkei 225 has fallen below the psychological milestone of 28,000.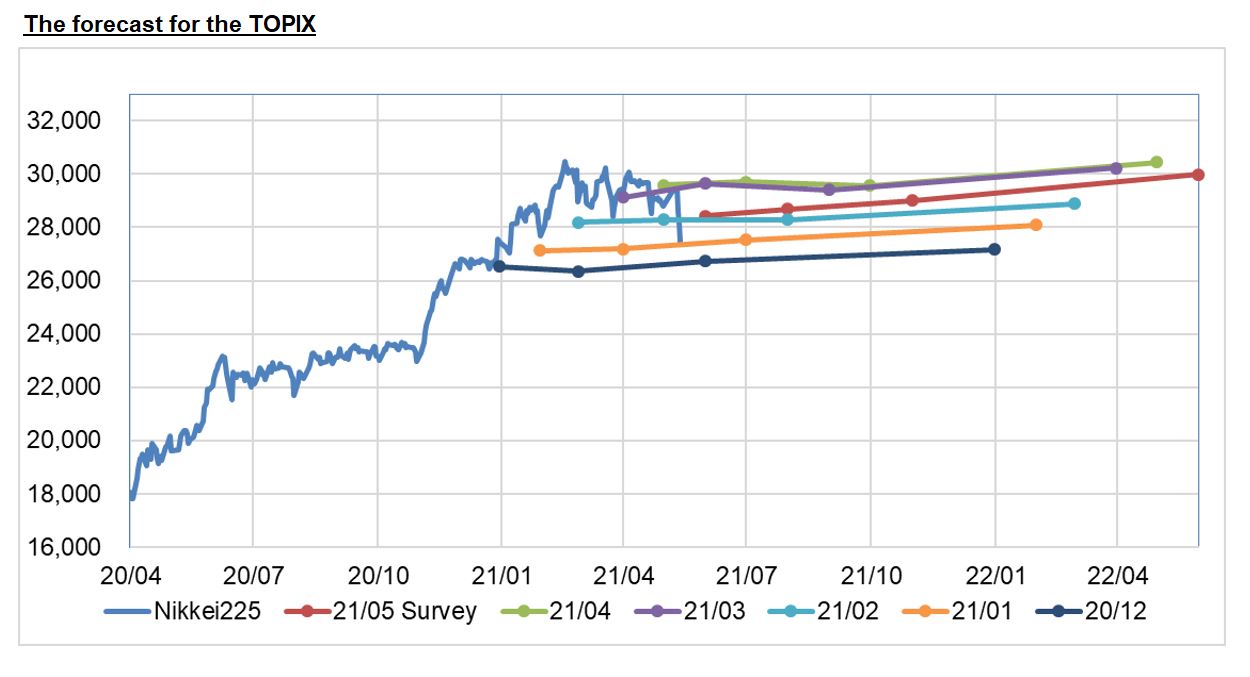 The survey was conducted among 211 participants, including investment managers at domestic institutional investors, and 122 responded. The survey was conducted during May 11 – 13, 2021.
QUICK Data Factory
https://corporate.quick.co.jp/data-factory/en/product/data012/