[Hot Topic] Capital flows into "Test kits" related stocks – MIZUHO MEDY (4595)
The market is focusing on "Test kits" related stocks. The average price for the 10 stocks selected by QUICK rose by 2.6%, which was higher than -1.4% of the TOPIX over the past 10 business days up to April 20.
In response to the spread of the new coronavirus infection in Japan, Osaka prefecture requested the government to re-declare a state of emergency on April 20. The same trend has been observed in some areas such as Tokyo, and the demand for PCR and antigen tests used for new coronavirus is expected to increase as a measure for group infection, and related stocks are being traded.
MIZUHO MEDY (4595), a manufacturer of pharmaceuticals such as Influenza reagents, the top gainer, rose 10% during the period. With the spread of the new coronavirus infection, the demand for "Smart Gene COVID-19 Detection Reagent" is growing. On March 3, the company announced that it had obtained approval to manufacture and sell reagents for rapid detection of new coronavirus antigens. The market was highly interested in the company, and on April 20 the stock price recorded a new high since its listing.
EIKEN CHEMICAL (4549), a major reagent manufacturer, the second gainer, rose 6% during the period. Nomura Securities raised its investment rating to "Buy" on April 14, which was favorably received. According to the report, the firm pointed out a chronic shortage of endoscopists in the mid-to-long term due to the COVID-19 disaster, and as a result, demand for its main fecal occult blood test would be expected to increase.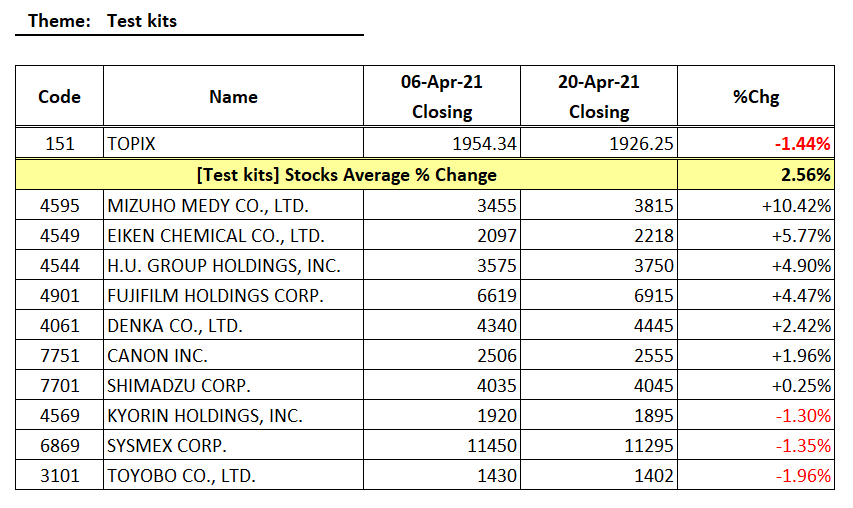 QUICK Data Factory
https://corporate.quick.co.jp/data-factory/en/product/data018/