[Hot Topic] Upward Trend Ramen / Chinese restaurants – GIFT (9279)
The "Ramen / Chinese restaurant" stocks are likely to be bullish. The average rate for the 16 stocks selected by QUICK for the past five business days up to April 8 increased by 2.45%, which was higher than -0.3% of the TOPIX for the same period.
The number of customers has returned thanks to an increase in going out after lifting the state of emergency and strong to-go sales. Although measures are being taken to prevent the spread of the new coronavirus in the Kansai region and other regions, many investors are buying stocks that suffered a significant decline in earnings in the previous fiscal year in expectation of recovery.
GIFT (9279), which develops a chain of Yokohama Iekei Ramen shops in the Kanto region, rose 13% with the highest rate of increase during the period and recorded the year-to-date high every day. Total sales of all directly operated stores in Japan in March increased by 26% from the same month of the previous year, which was announced on April 5. With the lifting of the state of emergency, the frequency of consumer visits to the store recovered, and the company expanded the number of stores that offer home delivery and to-go services.
In the report on March 15, Ichiyoshi Securities reported that the mainstay "Machida Shoten" is located mostly in residential areas around large cities and suburban roadside. There are only a few ramen shops of "Pork bone soy sauce base" targeting the families, the firm pointed out that sales recovery was faster than other companies in the COVID-19 pandemic.
The Monogatari Corp. (3097) which has restaurant chains, such as "Yakiniku King" and "Marugen Ramen", rose 7% during the period. Ongoing investment in existing stores and marketing has improved the competitiveness. On March 10, major securities firms upgraded their investment ratings on the expectation that the company would continue to achieve a high level of profit growth. Therefore the stock price has remained at a high level since its listing.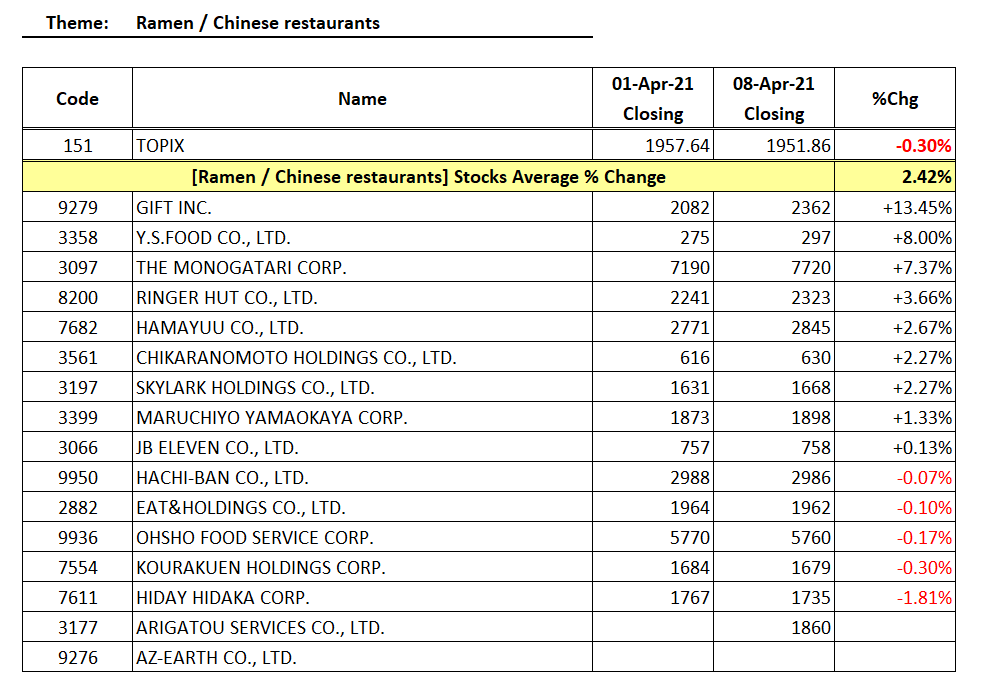 QUICK Data Factory
https://corporate.quick.co.jp/data-factory/en/product/data018/