[Hot Topic] "Childcare and Infant Services" Stocks Are Currently Getting Attention – Youji (2152)
"Childcare and infant services" related stocks are in focus. The average rate of increase for the 18 stocks selected by QUICK for the past five business days up to April 5 was 9.6%, which was higher than the -0.5% of the TOPIX for the same period. This was triggered by Prime Minister Yoshihide Suga's announcement that he would consider establishing a "Children's Agency" to enable cross-ministry policy measures. As a result, the stock price of companies operating kindergartens and nursery schools was moved by short-term buyers who were looking for investment opportunities at a time before many companies will announce their financial results for the fiscal year ending in March.
Youji Corp. (2152), which provides sports instruction and consulting services to kindergartens and nursery schools, rose 58.8%. Other companies that operate childcare facilities such as Global Bridge Holdings (6557), Global Kids Company (6189) and JP-Holdings (2749) were among the top gainers. The market seems to have associated the business environment with the progress in the dissolution of the vertically divided administration of early childhood education.
At the moment, however, there are no concrete details, and the examination has just begun. Many companies with a market capitalization of less than JPY10bn are among the top gainers. Therefore, price fluctuations are likely to lead to trading targets. The policy is expected to have a positive effect on society and is likely to become a theme from time to time, but on the other hand, it should be noted that funds will be withdrawn quickly in the near term.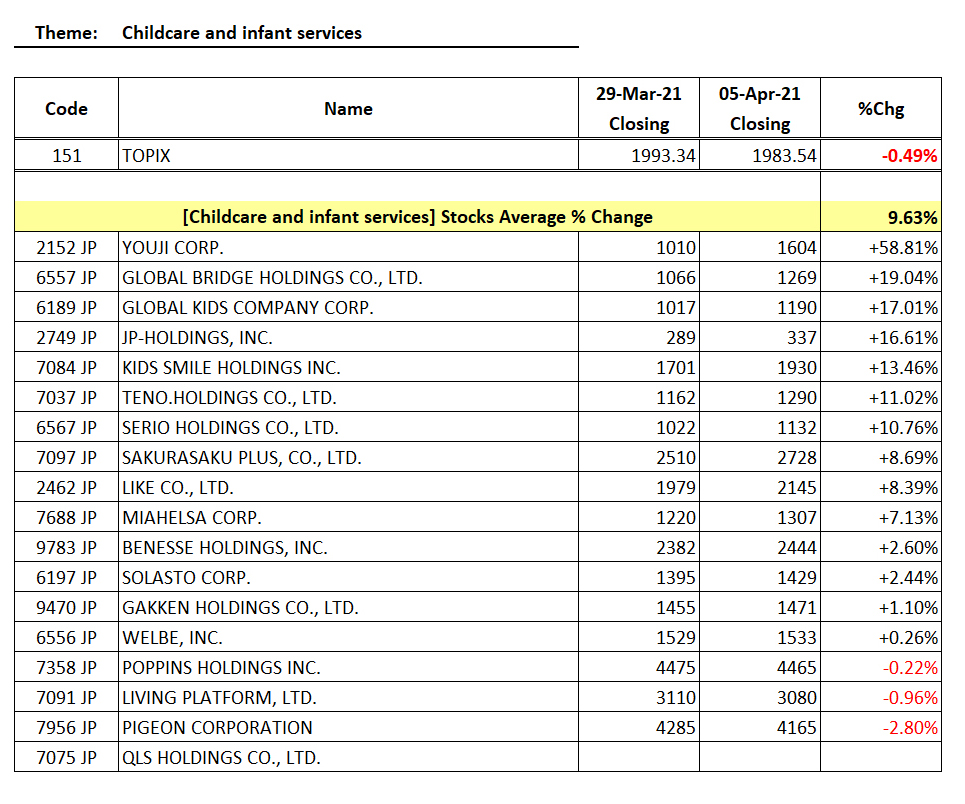 QUICK Data Factory
https://corporate.quick.co.jp/data-factory/en/product/data018/